Me and music
Age 10 with my Martin 0-17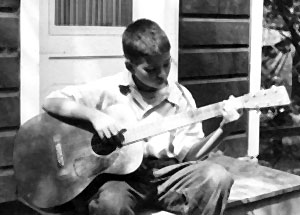 I grew up in New York City. My parents were old "lefties" and listened to the folk music of Pete Seeger, Woody Guthrie, and Burl Ives.
In 1950 I accompanied them to a summer camp where they had gotten a job. It was a creative arts camp in Connecticut (Buck's Rock Work Camp in New Milford, CT). At the age of ten I learned a few chords on the guitar, and my parents bought me a Martin 0-17 when I returned to the city.
I continued to attend the camp each summer and in 1955 I met the Counselor in Training for Folk Music, Paul Prestopino. He turned me on to the broader aspects of the music.
On my return to NYC in the fall of 1955 I bought a Martin D-18 and a banjo. I began to spend my Sundays at Washington Square in the Village, and became a part of the NY folk scene in the mid 1950's-- the era when the "Folksinger's Guild" was operating with folks like Dave Van Ronk, Carolyn Hester, Logan English, and the New Lost City Ramblers.
Age 15. Giving guitar lessons at summer camp with
Tony Saletan (middle) and Barry Kornfeld (right).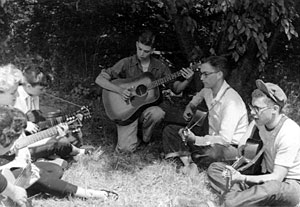 My summers after that, were first spent at the camp as a CIT of folk music for two years (1956-7), then as Junior Counselor of folk music (1958) and finally as Counselor of Folk Music in 1959.
"Gardyloo" June 1959. The Greenbriar Boys: Paul Prestopino, mandolin; Bob Yellin, banjo; John Herald, guitar.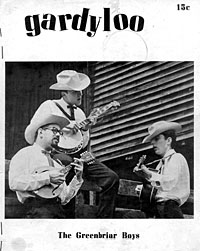 When I first started my folk music journey in New York City I was 15, the "kid" of the crowd. I began performing regularly at the "Guild" meetings and at concerts they organized. I started to hang out with Lee Hoffman Shaw who was editing a folk music magazine called "Caravan." She eventually sold the rights to others and began a second magazine called "Gardyloo." It was a 10-15 page mimeographed magazine which included concert reviews and lots of NYC Folk scene gossip. Lee, who was a member of the "science-fiction" crowd had several of her friends (who eventually became well-known writers) doing reviews of concerts for the magazine. The column about the English folk-scene was written by John Brunner who mailed his submissions from the UK as ready to go mimeograph stencils. Harlan Ellison also wrote a review or two.
The front and back of the NLCRA tag.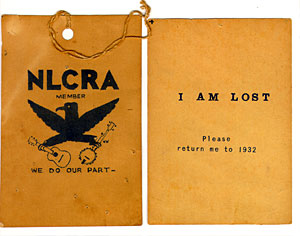 "Gardyloo" was also the "fan-magazine for the New Lost City Ramblers, "and I designed and drew the tag for them (New Lost City Ramblers Appreciators) that was a send-up of the National Recovery Act seal. The little "WW" in the corner is me!
After hearing the Greenbriar Boys (in their first incarnation) I put the guitar aside and took to the five string banjo in earnest. By 1964 I was the "hot" banjo player in New York. I played in The New York Ramblers with David Grisman (mandolin), Gene
Lowinger (fiddle) and a number of guitar players including Eric Thompson, Jim Field, and Jody Stecher. I can be heard with the Ramblers on "Bluegrass Breakdown" (Vanguard) and with Grisman on "Early Dawg" (Sugar Hill).
I won the Sunset Park banjo contest in 1963, the Philadelphia Folk Festival Banjo Contest in the same year, and won banjo honors at Union Grove (North Carolina) for four years in a row. In the same year I was one of the artists on the Elecktra "Old Time Banjo Project" record. In 1965 I played a short stint with Bill Monroe and the Bluegrass boys. In 1966 I did a short tour with The Greenbriar Boys (Frank Wakefield and John Herald) filling in for Bob Yellin.
In 1971, shortly after moving to Philadelphia, PA, I took up pedal steel guitar. In 1976 I authored "Pedal Steel Guitar"-- an instruction manual published by Oak Publications that has sold over 30,000 copies since it was first printed.
In 1980, I authored A Manual of Style -- an exploration of the styles of several steel players: John Hughey (Conway Twitty, Vince Gill), Terry Bethel (Mel Tillis), Jimmie Crawford (Kitty Wells, Dolly Parton), and Weldon Myrick (Grand Ol' Opry).
I recorded with Steve Goodman (author of "The City of New Orleans"), David Bromberg, Rosalie Sorrels, Jim Ringer and Mary McCaslin, and Saul Broudy-- all major folk acts in the USA.
Playing at Scotty's, 1980.
Photo by Jim Nelligan.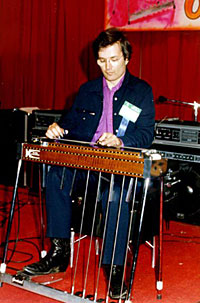 I also have played "in person" shows with the same people as well as with Paul Siebel and Jerry Jeff Walker.
In 1978 I recorded "Steel Wool" -- a solo record for Philo Records. It was re-issued as a tape by Pedal Steel Guitar Products.
In 1985 "Cloud Dancing" was released-- a record of original steel guitar instrumentals. It was produced by Hank Davis in Canada.
I have been a featured player at the International Steel Guitar Convention , held every Labor Day weekend in St. Louis, MO, and am a member of the Board of Directors of the Steel Guitar Hall of Fame.
Since settling in New Zealand in June 1995, I have recorded with a few local bands and on a number of commercials and short films.
I am currently playing steel guitar (off and on) with the Ar-Kay Cajun Band from Wellington.