Ar-Kay Cajun
In 1982 I took a sabbatical from my teaching job. I packed my steel, banjo, and amp into my car, along with clothes and assorted sundries, and drove cross country. On one hand I was meeting with any and all homeopaths I found-- both lay people and practitioners. I was trying to decide if I should quit my teaching job and go to medical school. On the other hand, I was meeting many musicians, doing some steel seminars, and sitting in with a number of bands around the country.
Before I left, a friend had given me names of musicians he knew across the USA. There were several in Louisiana he suggested that I look up.
So there I was in Phoenix, Arizona. I had some time to kill between appointments. I dropped into the local mall, and the theater was playing a few films. I was in time to catch the early afternoon showing of "Southern Comfort" so I went in. The movie is about a bunch of Louisiana National Guard troops on maneuvers who come across some way-in-the-woods Cajuns, and through a misunderstanding, get into a battle with them. The Cajuns, of course, have the upper hand and by the end of the film only two Guardsmen are left alive. They wind up in a little town where there was a "boucherie" (the slaughtering of a pig) and a big dance with a live band.
I am always aware if a musician in a film is just holding an instrument or really playing it. These guys were really playing. It was great music. They were the roughest looking guys I could imagine. The accordion player was not someone I'd like to meet in a dark alley. I thought, "Oh boy! I'm going through that part of the country on the way home. Uh oh."
At the Savoy house. Eunice, LA Mardi Gras 1983. (front) Susan Krebs, Mitch Greenhill, Winnie Winston. (rear) Amelia Burnham, Ann Savoy, Marc Savoy.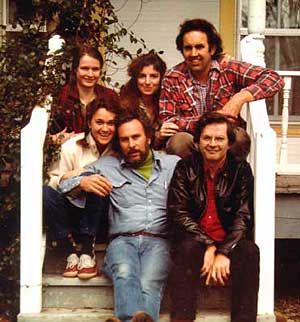 The film was over, and the credits rolled. I looked for the names of the band. Oh my. These were the very folks I was supposed to look up!
Two months later, I was going through Louisiana. I phoned Marc Savoy , the accordion player. He directed me to a motel and told me to drop into his store the next morning.
When I got to the motel, I found a number of other "northern people" there. They had come down for the Mardi Gras the following Tuesday. We went out for a magnificent crawfish and catfish feed, and the next day I went to visit Marc at his store. He invited me for dinner at his place the next night, and I brought along the steel. He suggested that I come sit in at the Mardi Gras dance in Mamou on Tuesday eve. "It isn't a real Cajun instrument," he said, "but by 10 o'clock they will be so drunk that they won't notice."
Marc had a small apartment above his store, and it was occupied by Delila Lewis, a nurse working at the local hospital and a fiddle player. The next day she took me to see some sights, and took me to meet Dennis McGee, a fiddle player who cut the first Cajun record back in 1928. I played some back-up guitar while he and Delila played fiddle duets.
Going down the road on the back of a pickup truck. 7 a.m., Basile, LA Mardi Gras, 1982. Photo by Nick Spitzer.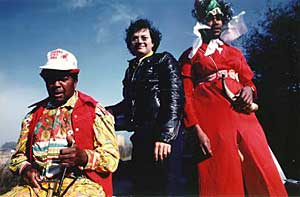 The next day I was up at 6 a.m. to visit the Mardi Gras hosted by the black community in Basile. Led by Alphonse "Bois Sec" Ardoin, the community loaded in trucks and paid visits to all the farms in the area, collecting rice and chickens for the gumbo that was to be made that evening.
The whole thing was documented by folklorist Nick Spitzer. It was an amazing experience, even more so because, as it turned out, it was the last Mardi Gras for the community. By the next year, they all went to celebrate with their extended family at Lake Charles.
That evening, I turned up to the Moose Hall in Mamou and played with the band. Marc was on accordion, Mike Doucet was on fiddle, and David Doucet was on guitar. The next night I was able to sit in with Beausolei at Mulates Restaurant in Breaux Bridge, LA. I fell in love with Cajun music!
A drawing of me with Dewey Balfa at the Brandywine Festival, Delaware, 1983.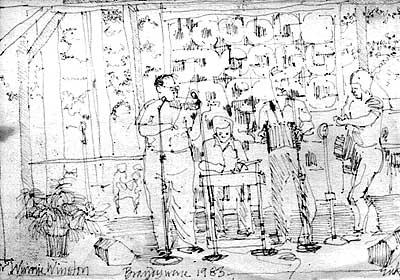 The next year I took a week off teaching to fly down and play with the Dewey Balfa band in Basile. I had met Dewey through Marc (Dewey was the fiddle player in the movie!), and in the intervening year played with him at a few gigs he did at folk festivals on the east coast. And I got to go back to Mulates again. It was a grand time.
By 1999 I was living in Wellington, New Zealand. At the local folk club one night, a new-comer appeared with a fiddle. He played a few tunes, one of which was Cajun. I invited him over for dinner.
The Ar-Kay Cajun Band. Wellington, July 2003. Richard Klein on fiddle.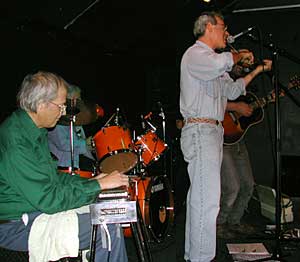 Richard Klein grew up in New Jersey, and began to see the world in 1977. He lived in Sweden for a while, and then in Italy, before getting a job in New Zealand. So I asked, "How did you get into Cajun music?" And he tells me that in June 1982 he was driving cross country and passed through Cajun country. He stopped at Marc's store, met Delila, and she took him to meet all these old fiddle players like Dennis McGee and "Bois Sec" Ardoin. He was there, with the same people, just four months after me!
So we put together a Cajun band in Wellington . Sorry to say we did not have a Cajun accordion player, although at one big gig the band all chipped in to get Red McKelvie to come up from Timaru to play with us. Red is a great multi-instrumentalist and is, I think, the only one in NZ who knows how to play Cajun accordion.

Churchpoint (Trad. Balfa Bros.), from the demo CD "Down Under Cajun", by the Ar-Kay Cajun Band. (1.9Mb)
We did a small demo CD of 7 songs. Then I had some health problems that kept me from playing, and Richard and his wife opened an Italian trattoria in Wellington that keeps him busy.
The Ar-Kay Cajun Band does get together for gigs on occasion, and it is always a high energy time.
Down under Cajun music!