Me, Hank, and Raunch
Our respective yearbook photos (1959).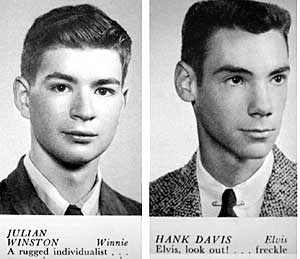 Hank Davis and I went to high school together. In 1955 I came home from my summer vacation, went to Terminal Music on 48th Street and bought a Martin D-18. In 1960, Hank went to Manny's-- right across the street from Terminal on 48th St. He bought an Ampeg amp and a Fender Stratocaster.
We were somewhat aware of each other, but never really talked. I guess it was 1956, when Hank said he wanted me to hear some great records. He came to my house with a few 45s. 45s? Those were commercial shit! There I was listening to old 78s from the Library of Congress...
So he played me the records. As I thought, they were commercial shit. Terrible. There was one I thought was interesting. It was by a singer named Johnny Cash, and was, I think, "Train of Love." I was really taken by the "bum-da-da, bum-da-da" guitar line. I was later to find out it wasn't Cash, but Luther Perkins. Oh well.
Hank and the Electras (1959).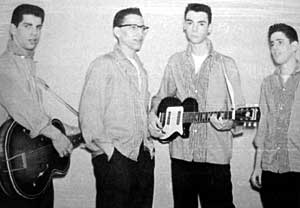 Hank left with his records. We saw each other at school, but never talked about music. He had a band, "Hank and the Electras," which played at the school dances, but I never heard them because I never went to the dances.
Fast forward about five years. I was hanging out with a bunch of Bluegrass folk at Columbia University. The New York Ramblers were using the Columbia University radio station studio to cut a possible LP. I met Bob Gurland, one of the Columbia musicians who hosted a "country music" show on the Columbia radio station. He told me that he had inherited the show from Hank Davis, who graduated a few years before. So! THAT was what Hank was into! How interesting!
Fast forward another seven years. I was playing pedal steel with a New Jersey country band on the weekends. I started thinking about country music and my mind wandered to Hank. Where was he? "Probably a DJ at a radio station in Kansas," I thought. And then I dreamed about him, for five nights in a row. He was never doing anything-- just standing there watching whatever was going on in the dream. I had to find him.
It took three days. Columbia University had no record of him-- only because I asked for Henry Davis, never thinking his name was really "Hank." I phoned my high school. I was able to speak to the Principal who remembered me. He said they had received a letter from Hank about a year earlier. He found it in the files. Hank was in Guelph, Ontario teaching at the University there.
I phoned information, and got a number for "Hank Davis" in Guelph. I phoned.
"Is this Hank Davis, who went to Lincoln High School in Yonkers?"
"Yes it is."
"Well, this is Winnie Winston."
"Wow! Are you still playing music?"
"Sure am. Playing pedal steel and thinking of you."
"Hey! I'm playing piano. Why not come up and we can lay down some tracks?"
So that summer I got together with Hank. We played at the house, and then rented a studio for a few hours and laid down tracks for about four songs he had written.
He still had the Strat. Those records he brought over back in 1956 were all early Sun records of Elvis. Little did I know.
We got together almost every summer over the next few years, and recorded a whole passel of music. And while we were doing it, Raunch Radley raised his ethereal head.
Because of Hank's amazing collection of early Sun records and other early rock and roll sides, he had become known among collectors of such stuff. A small record company in Holland, Redita Records, were re-releasing a lot of old stuff including out-takes of the early Sun stuff. Elvis sings "Blue Moon of Kentucky" and Sam Phillips says, "That was pretty good! Let's try it again!" And the second cut becomes the released record.
Redita had contacted Hank about getting some material that was missing from their archives. On one of the tapes Hank sent over, he included a few cuts from the 45s he did with his band when they were playing for dances at Columbia University. Redita was most impressed. Here was REAL, non-commercial rock and roll. The genuine article. The outcome was a whole record called "I'm Hank Davis," consisting of the work he had recorded in the early 1960s, and re-released as "New York Country Rock" Redita 115.
When I came up to visit Hank in 1974 he had a devious plan. "Let me tell you about Raunch Radley," he said. Raunch, as Hank created him, was a legendary figure in the bar scene around West Memphis, Arkansas. He made some 45s, all collectors items by now. Getting to see him these days was well nigh impossible because of his heavy drinking and unpredictable behavior. But he was a major musical influence for many young musicians in the area. "He played steel, you know," said Hank.
And with that intro, Hank and I sat down for a few days and recorded a number of tunes as "Raunch Radley." Hank prepared a cover, liner notes, and a complete discography and sent it all to Redita.
The cover of the Redita album.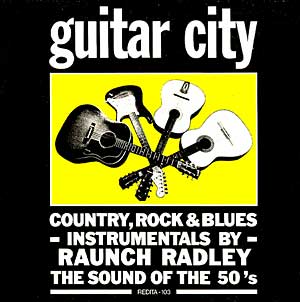 Redita replied, saying it was obviously a put-on, but the music was exceptional, so why not? They pressed 500 copies of "Guitar City" (Redita 103). It got favorable reviews in some of the European rock and roll and blues mags. It had 14 songs, 13 of them composed by "A. Radley" ("A" was for Arthul!). The backup was provided by Lonnie Joe Haggett (drums), Pittman Putman (guitar), Rennet LeBlanc (lead guitar), Norbert J. Nimbus ("N.J.") and Herbert Herbst (rhythm guitar)-- the last being our High School Assistant Principal! Of course, it was all just Hank... and Hank credits himself as playing bass on five cuts and me with playing guitar on three. I guess we somehow, in an alternate reality, met the elusive Raunch and sat in. Maybe it was a real treat. Sure wish I could remember. Some of my most interesting playing... and it wasn't even me!
Hank's house in the woods of Puslinch, Ontario. My Bob Sharp modified Datsun 510 parked outside.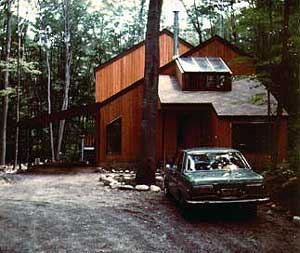 About two years later we cut "Alive since 55" another collection of Raunch tunes including two from a rare "live performance" at Daisy's legendary "Puke and Holler Tavern." Five of us sat in Hank's living room clinking glasses and yelling. A few tracks of that, merged to one, gave us the bar background. Raunch even played saxophone on one cut and zither on another, thanks to Ken Bloom.
Over the years Hank and I recorded a number of his original songs, some of which appeared on his solo records, "Crazy Living" and " Stompin' at the Dead Moose ." The best of these were re-released on a CD called "Blue Highway" (Relaxed Rabbit RRCD 428)
An alternate cover for "Stompin' at the Dead Moose."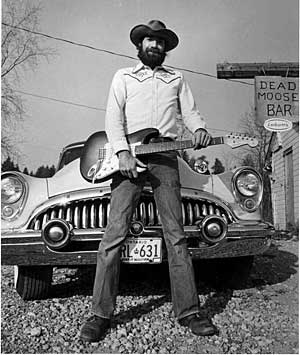 Between June 1981 and June 1983 Hank and I recorded a number of steel guitar instrumentals. We sat in his living room, plugged into his 4-track machine. I was plugged into the "echo" channel for reverb. Hank had his Strat plugged straight in to another channel. We listened to it through the living room stereo speakers. We just sat and screwed around with chord progressions, tried normal 4/4 songs in 3/4 and vice versa, and experimented with where the odd lick would go if expanded upon.
Hank and I with the Kline and the Strat (1984).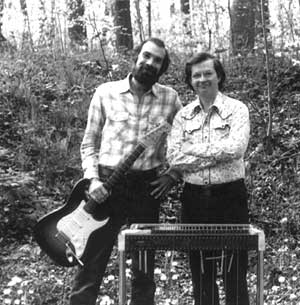 We were sitting there at about 1 a.m. one night when Hank said, "Why not play around with 'Mystery Train'?" I thought it was a good idea and off we went. After a few tries and a few takes, I said, "That is one great song!" Replied Hank, "You didn't think so when I played it for you 27 years ago!" Oh. So THAT was one of the Sun Records Hank brought by!
Our efforts came together with the release in September 1985 of "Cloud Dancing" an album of 16 steel instrumentals.
The material on it was right off the top of our heads, and has a spontaneity that I've never gotten elsewhere. Somehow, Hank and I created music that was greater than I could do myself. The true definition of a synergistic relationship.
As Hank wrote on the back of the album:

Big Black Machine (Winnie Winston / Hank Davis), from "Cloud Dancing" Relaxed Rabbit 426 (out of print) (1.9Mb)

Frog Invasion (Winnie Winston / Hank Davis), from "Cloud Dancing" Relaxed Rabbit 426 (out of print) (1.3Mb)
[They] "pushed each other in musical directions neither had traveled alone. It was no longer just country music. Now there were traces of blues, jazz, early rock, even Cajun music thrown in. Sometimes the music was weird, sometimes it was very pretty. Hank built a small 4-track studio in his home so that he and Winnie could record to their heart's content at all hours. They hung out; they ate, drank, and played. Nothing complicated, just good simple honest music by two old time friends."
When Hank started to compile the music we did from his reel-to-reel tapes onto CD, he filled four CDs with the music we created between 1974 and 1983.