Steel Wool

In 1975 I was asked to back up Rosalie Sorrels at a show that my brother was producing in Vermont.

I arrived in Vermont only to find that Rosalie had a medical emergency and would not be coming.

My brother phoned Philo Records, for whom Rosalie recorded, to ask if they had any ideas about filling her spot. Philo said that they had Jim Ringer and Mary McCaslin at the studio recording, and they would send them down to do the show.

That afternoon I met Mary and Jim, and I played the show with them that night.

Mary asked if I'd be free the next day to play on the record she was doing. And so began my relationship with Philo Records (and with Jim Ringer and Mary McCaslin!).

Over the next few years I played on several albums they made, as well as performing with them at their live shows when they came to the east coast. I also played on a number of other Philo records, for a number of artists. My memory is that I was flying up to Vermont every month or two.

At Philo during a session with Mary McCaslin. Sitting at my Single-14 Sierra. Photo by Eric Borg.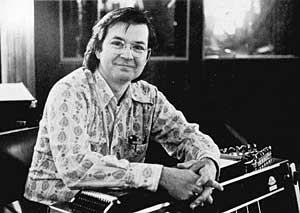 Along the way I started to think about the possibility of asking Scotty about playing at St. Louis, and the possibility of doing a record.
I realized that in both instances, I would want to play material that no one else played. If I played "Danny Boy" the audience could say, "Well, he didn't play it as good as Buddy (or Lloyd, or Curly, or Jimmy, etc.). But if I played original material, then there could be no comparison.
About this time I met Ken Bloom, a multi-instrumentalist from Chicago. Ken was in Philly playing the Philly Folk Festival, and we spent a few days playing music together. His breadth of musical knowledge was both refreshing and challenging.
I started fooling around with some tunes I found in the old "Fireside Book of Folk Songs," and I began to compose my own tunes.
The first I wrote I called "High Sierra"-- named for the state of my mind, and the instrument on which I was playing it. It happened so fast that I called a few steel players I knew to ask them if they ever heard it before. When it wasn't familiar to any of them, I assumed it was mine!
Ken Bloom at his electric zither, me at "The Steel." Photo by H. Armstrong Roberts III.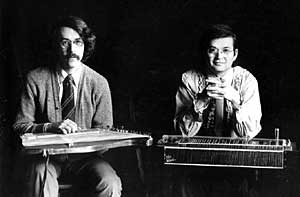 In 1977 I played St. Louis, with Ken Bloom as my main back-up. Most of the set was my original tunes.
By the fall of 1977 I approached Philo with the idea of a solo record. They agreed to do so, and provided a specified budget.
I contacted Bloom, and he agreed to be the producer. He came east for a week and we worked on a number of tunes. I then sent him a tape of all I was thinking about doing, and he said he'd work out some arrangements.
The studio date was set, and the musicians, all from the Philo "stable" and with whom I've worked before, were sent tapes to familiarize them with the material.
Bloom came to Philly in February 1978, and we drove up to Vermont. He had full charts and arrangements for everything. It was one of the most organized sessions ever done at Philo. We got the whole thing recorded in two days, including all the over-dubbing.

Head Works (Winston), from "Steel Wool" Philo 1058 (out of print) Arrangement by Ken Bloom. (1.7Mb)
On a tune like "Head Works" Bloom outlined the whole tune, what the drummer should play when, what the bass should be doing where-- the whole thing. When we got done, it sounded very empty. "Trust me," says Bloom. I did. The next day he overlaid a clarinet solo, and then three saxophone parts. It all filled out beautifully.
A week later we flew up for a weekend to do the final mixing and to add two tunes. At the same time we shot the cover.
The album was to be called "Steel Wool," and the cover concept, the steel among sheep, was suggested by a friend, Lynn Hughes. I wanted both black and white sheep. We joked about blowing the whole budget by flying to New Zealand to do the shot. It turned out that one of the premier herds of black sheep was located about five miles from the recording studio. We showed up, put the steel in the barn, and let the sheep circulate. Six rolls were taken-- 72 shots-- and we found only two that would work.
I prepared the inside art-work for the record. I also assembled a book of tablature to go with the record. I over anticipated the desire for such a book. I had 2,000 printed, and about 1,500 became fuel for my brother's wood stove a few years later.
The record broke even. When the printing of 3,000 were sold, it was not re-printed. When Philo closed, the master tapes went to Rounder records, and were either recorded over or were lost.
In 1992 Tom Bradshaw from Pedal Steel Guitar Products reproduced the record as a tape. Copies still might be available from the Steel Guitar Forum.
Steel Wool: the musicians
Ken Bloom: guitar, clarinet, saxophone, penny-whistle, concert zither, vibes, Northumbrian small pipes.
Jay Ungar: fiddle, mandolin
Tony Markellis: Electric bass
Brian Torff: Acoustic bass
Steve Mosley: drums, percussion
Jeff Salisbury: drums
Rick Winston: Piano