Me and my old banjo (cont.)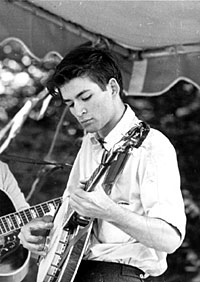 Philadelphia Folk Festival; Banjo Contest, 1963. The backup guitar was Jody Stecher.
After I won the Sunset Park contest I was on a roll. I entered and won the Philadelphia Folk Festival banjo contest in 1963 . I continued to attend the Philly Folk Festival for all the years that I lived in Philadelphia, taking part in banjo (and later steel guitar) workshops, and playing backup to various people.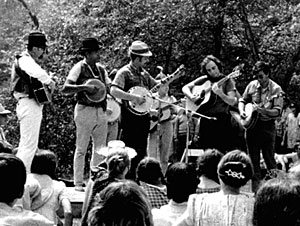 Banjo workshop, Philly Folk Festival, 1966. Hal Wylie, Roger Sprung, Bill Keith, Jody Stecher, Winnie Winston.
In the fall of 1963 I met a bunch of musicians from New Jersey (Hank Miller, Gene Lowinger, among others), and started to play with them. By that time a few informal groups had blossomed in the New York area. I met and began to play with David Grisman who had been playing with a group called the Garrett Mountain Boys (David on mandolin, Fred Weisz on banjo, Steve Mandell on guitar, and Frank Benedetto on bass). David met Californian Eric Thompson who was visiting New York, and brought him over to play a few tunes. We decided to put together a band to enter the Union Grove, North Carolina Old Time Fiddler's Convention on Easter weekend. We called the band "The New York City Ramblers." I was on banjo, David on mandolin, Eric on guitar, Gene Lowinger on fiddle, and Fred Weisz on bass. We packed into my parent's station wagon and made the trip down.

Follow The Leader (Don Reno), by the NY Ramblers from an unreleased session with James Field. (2Mb)
Most of the bands who entered (there were about 80 acts) were either banjo based or fiddle based. We were unique in that all the instruments except the bass took instrumental breaks. We played Don Reno's "Follow the Leader." We won the overall band prize and a few lesser hall prizes in the band, guitar, and banjo categories. We were ecstatic.
Shortly before going to Union Grove, I received a call from Ralph Rinzler, who was managing Bill Monroe. It seems that Monroe was coming up to play two shows at the Swarthmore Folk Festival, and was not traveling with a band. Would I be interested in playing banjo? Jeez! Is the Pope Catholic?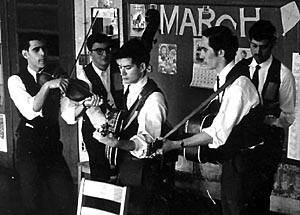 NY Ramblers rehearsing at Union Grove, 1964.
Photo by Bob Yellin.
I showed up a half hour before show time with the requisite light shirt, dark tie, dark pants, and a cowboy hat. Gene Lowinger was playing fiddle, and Del and Gerry McCoury came in from York, PA to play guitar and bass. Del had already done his long stint with Monroe.
I was introduced to Monroe. All he said was, "Pleased to meet you. Know my songs?" When I said that I did, he said, "well let's tune and go on."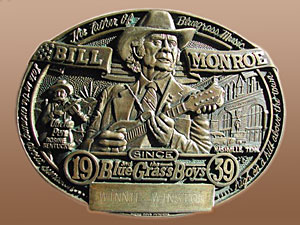 The Bluegrass Boys belt buckle.
What a magnificent experience!
Years later I received a "Bluegrass Boys" belt buckle . I still have it and treasure it, although my engraved name is fading some!
About the same time I was asked to take part in the Elecktra Record "Old Time Banjo Project." It was quite a recording session. All the musicians gathered at the studio and then took turns, in varying combinations, recording tunes. The session started at about 10 a.m. and wound up about 12 hours later. I was never quite pleased with my playing on that anthology. I was trying to be a hot Scruggs-style player, and here I was recording basic three-finger stuff.
The recording, however, started a number of folks on the road to three-finger playing. When I first met comedian Steve Martin he asked me to play "Twinkle Twinkle Little Star" and "Spanish Fandango" just to make sure he got it right when he was learning them from the record. What a treat!

Spanish Fandango (PD) from Old Time Banjo Project. Electra Records EKS 7276 (out of print) (852k)

You Better Get Right, Little Darlin' (Bill Monroe), by the NY Ramblers at Newport Folk Festival 1964. From "Bluegrass Breakdown" Vanguard Records VCD 77006 (1.8Mb)
After the Old Time Banjo Project session Eric Thompson went back to California, and we were looking for a new guitarist/singer. David found Jim Field in Boston, and we got together on several occasions to rehearse material.
We played at the Newport Folk Festival that summer. The performance can be heard on the "Bluegrass Breakdown" CD on the Vanguard label. When we returned to New York we got our first big two-week gig in the fall of 1964 at Gerdes' Folk City . The "Ramblers" had become a "real" band.

The Convict and the Child (Wakefield), Silver Belle GS 45-1005 (out of print) (1.8Mb)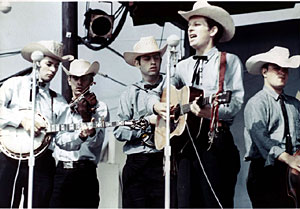 The NY Ramblers at the Newport Folk Festival, 1964. Photo courtesy of Gene Lowinger.
We had plans to release an LP, and we recorded enough tracks for the project under the production talents of Peter Siegel. The record never made it to pressing.
Somewhere in this time frame, Peter Siegel produced about six songs featuring Frank Wakefield. The one day session was held at (I believe) Mastertone Studios in NYC. The band was Frank Wakefield on mandolin and vocals, David Grisman on guitar, Fred Weisz on Bass, me on banjo, and Chubby Wise on fiddle. Two tunes, "The Convict and the Child" and "I'll Never Make you Blue" were released on the Silver Belle label as a 45.
By the early spring of 1965 Jody Stecher replaced Jim Field who had joined with the Charles River Valley Boys in Boston.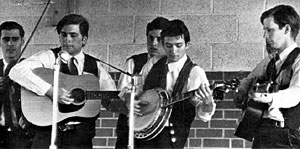 Union Grove 1965.
Both Jim Field and Jody Stecher on guitar.
The Ramblers returned to Union Grove in 1965 with both Jim Field and Jody Stecher on guitar. We won a few prizes. They were not going to let "yankee boys" sweep it twice.
We did another two-week gig at Gerdes' Folk City , with Julie Silber filling in on bass. We had changed the name of the band to the New York Ramblers-- which rolled off the tongue a bit better, and less apt to be confused with the New Lost City Ramblers.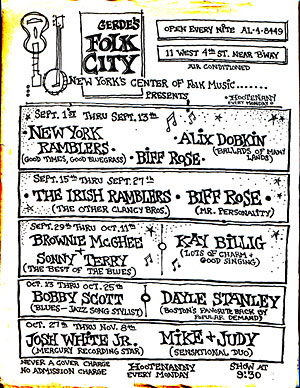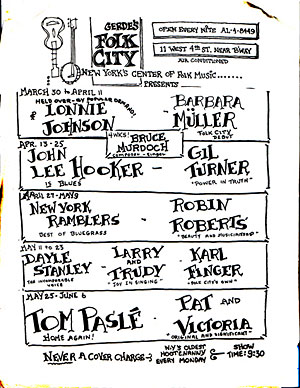 The 1964 and 1965 Gerdes Folk City poster.
Courtesy of Gene Lowinger.
It was our last formal gig. Within the year David moved to California, Gene moved to Nashville to work with Bill Monroe, and I moved to New Jersey to begin work as a designer for Creative Playthings.
David, Jody, and I came together at Carlton Haney's first bluegrass festival in September 1965 at Cantrell's Horse Farm near Roanoke, VA. We pulled together a loose "New York Ramblers" without Gene Lowinger (who was playing for Monroe by then) and with both Jody and Sandy Rothman (from California) on guitars, and played a short set at the Festival.

New York Ramble (Grisman), live performance, Fincastle, VA 1966. This was subsequently released as "Doggy Mountain Breakdown" (with Earl Scruggs playing banjo) and was used as the theme song for NPR's "Car Talk" with the "Tappet Brothers." (1.2 Mb)

Shenandoah Breakdown (Bill Monroe), "Early Dawg" (David Grisman) Sugar Hill CD 3713 (1.1Mb)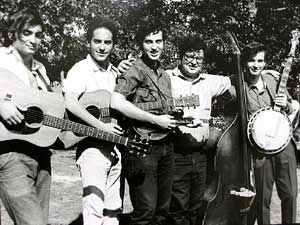 The NY Ramblers at Fincastle (Roanoke), VA, 1965. Jody Stecher (guitar), Sandy Rothman (guitar), David Grisman (mandolin), Fred Weisz (bass), Winnie Winston (banjo). Photo by Ron Petronko.
In 1966, David and I, with Del and Gerry McCoury, played a show at Rensselaer Polytechnic in Troy, New York. After the show we did two sets at the local coffee house. Ted Marchbein came along with a Nagra tape recorder and captured it all. Pieces of the session were released in 1980 on David's "Early Dawg" on the Sugar Hill label.
I returned to Union Grove in 1966, with Jody Stecher on guitar. We were joined by Bob "Quail" White-- a bass player from Atlanta, GA. I won a few banjo ribbons and Jody won best guitar.
In 1967 I went down alone, and found Jon Sholle there. I asked him to play backup for me. He won best guitar. Someone said to me, "You should be winning the banjo prize, but you keep coming with such good guitarists!"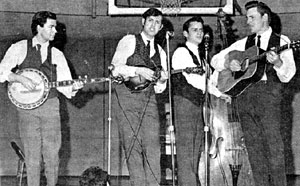 The 'Early Dawg' band with Gerry and Del McCoury.
Troy, NY 1966.
That was the year that Ronnie Reno showed up. George Shuffler, who had played guitar for the Stanley Brothers, had a brother in the Union Grove area. His brother urged him to come to Union Grove to see this "good yankee boy on the five string." George showed up with Ronnie, took one look at me and said, "Him? I know him!" That evening after the show, George, Ronnie, and I sequestered ourselves in the fire station and played till about 4 a.m. What fun!
In 1968 I went back with Jon Sholle on guitar, Jody on mandolin, Fred Weisz on fiddle, and Bob White on bass. I won best banjo and Jon won best guitar. We played a blistering version of "Shucking the Corn."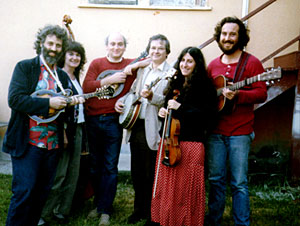 Oakland, CA, 1985.
David Grisman, Kate Brislin, Jody Stecher, Winnie Winston, Suzy Thompson, Eric Thompson.
It was my last formal foray into the world of banjos. I did keep playing, but not with any organized band. In the summer of 1968 I won the banjo prize at the banjo contest in Berkeley, CA. 1968? Berkeley? What a story !
I managed to get to the amazing parties that Tex Logan held for Bill Monroe in the late 60s and early 70s.
In 1969 I moved to Philadelphia and shortly after discovered the pedal steel guitar.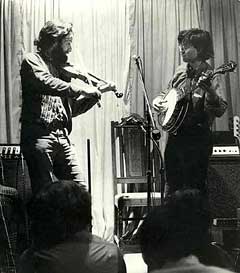 Mike Seeger, Winnie Winston.
Photo courtesy of Hoyle Osborne.

In 1985 I had a wonderful reunion with the band when I was in San Francisco on business. We (Jody, David, and Eric) got together at Eric's house in Oakland. Philadelphia was the home to a very live folk scene. Among the small venues was one called "World Control Studios" in Germantown. I played there with a number of visiting artist including Mike Seeger. The picture here (left) has us in a most hirsute phase of our life!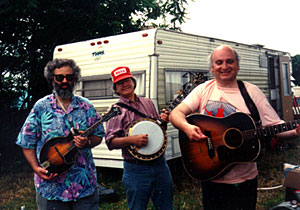 More hair and less hair.
The NY Ramblers reunion band, 25 years later.
The New York Ramblers (me, David, and Jody) had a 25th reunion in 1990 at the Winterhawk Bluegrass Festival in upstate New York. We did a 40 minute set. The MC was Bill Knowlton-- still running "Bluegrass Ramble" in Syracuse, NY!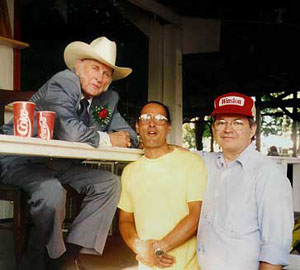 Bill Monroe, Gene Lowinger and I at Sunset Park, 1993.
Since Sunset Park was such a short drive from my home in Philadelphia, I continued to attend their shows and play in the pasture with other bluegrass players.
On the several occasions I've been in the SF Bay area, I have always hooked up with David , Jody, Artie Rose, Mayne Smith, and others I've known and played with over the years.
Due to a tightening tendon in the index finger of my left hand, I stopped playing banjo out in 2001. I am still playing steel.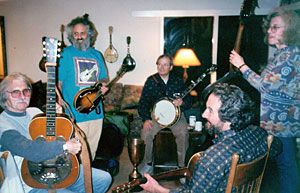 The gang at "Dawgville," Mill Valley, CA 1996. Artie Rose (dobro), David (mandolin), me (banjo), Eric Thompson (guitar), Harriet Rose (bass). I'm playing David's flat-head Granada - the best banjo I've ever played!
Photo by Marty Cutler.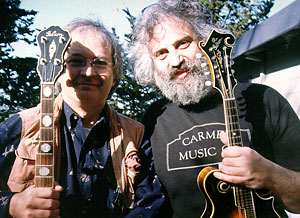 David and I, Mill Valley, CA 1993.
I'm holding David's top-tension Gibson.