Tex Logan and his great parties
Tex Logan with Bill Monroe and Gene Lowinger. Bill Keith on banjo. Photo courtesy of Gene Lowinger.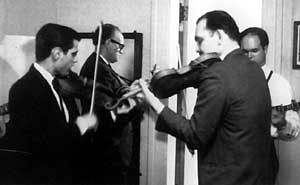 Being involved in bluegrass I was familiar with Tex Logan. A great fiddler, he played with Bill Monroe on several occasions. While attending school in Boston, he played with the Lilly Brothers.
In late August, 1966, I received an invitation to come to a party at Tex's house in New Jersey. He said it was in honor of Bill Monroe's birthday.
The drive out looked very much like the present day intro to "The Sopranos." Over some ugly parts of New Jersey, through some industrial areas, then some seedier neighborhoods, then some better neighborhoods, and finally to a beautiful tree-lined street with large old houses. I guess if they had gates and slightly longer drives they would have been mansions. Old and stately.
The Lilly Brothers: Bea Lilly, Don Stover (front), Everett Lilly, Tex Logan (back). Photo from Tex Logan in Baby Let Me Follow You Down by Eric con Schmidt and Jim Rooney.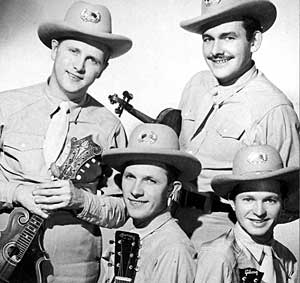 "Could I be on the right street?" I asked myself. "Could a bluegrass fiddle player live here?" I looked for house number, and then I saw it. A large house, set back from the road. And in the driveway, the Bluegrass Boys bus. I realized I had not taken him literally. It was a real birthday party for Bill Monroe!
I was greeted by a maid-servant at the door, and taken to the spacious back yard, where about 70 people were gathering.
Tex, as I learned, was none other than Benjamin Logan, PhD, a mathematician who worked for Bell Laboratories. He had played with the Lilly Brothers while getting his PhD in advanced mathematics at MIT. He was also a fine cook! He treated those present to a meal of homemade corn bread and Texas chili, served by a professional looking staff.
When the food was well on its way to being digested, and night began to fall, everyone went inside to his spacious den, where they were treated to an hour-long show by Bill Monroe and his whole band. As the hour drew to a close, Bill often called others up to play, and the playing continued until daybreak.
Bill played, off and on, for the whole night. He once berated me for leaving at 4 a.m. "Come on! he said, "I'm playing till the sun comes up. You can too!"
I think I went to four of the parties. I believe Tex stopped them in 1970 or so. Several things stand out in my memory:
Roland White and Bill Monroe at Tex Logan's party. Kenny Baker and Winnie Winston behind. Photo courtesy of Gene Lowinger.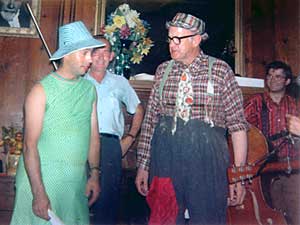 In 1967, somewhere about 1 a.m., I was playing some fiddle tunes with Kenny Baker. In swept Bill Monroe and Roland White . Bill was wearing an outrageous outfit, and Roland was in drag. They proceeded to treat those present to an off the cuff comedy routine. I'd never known Bill to "let his hair down" that much. He was very funny!
Another time (maybe it was the same year!) it was about 2 a.m. and I was playing banjo while Jody Stecher was singing some tunes. Bill appeared and said, "Let's sing some duets," I have no memory of what was sung, but Bill and Jody sang three duets. Bill glared at Jody during it all.
About an hour later I was at the cooler on the back porch getting a soda, when Bill came up.
"That boy," he said. "Was he the one who backed you up at Roanoke? What does he do?"
I acknowledged that Jody was with me at Roanoke in 1965. "He's going to college in New York."
Said Bill, "Why, that boy shouldn't do nothing but play music."
And off he wandered.
Did he ever say that to Jody? No. But I told him!
It might have been the last one I went to in 1969. Bill was just getting done with his set, and looking around at all the musicians watching him. He commented on how the music was going to continue all night. "Now we have Bob (Yellin), and Ralph (Rinzler). There's Eric (Weissberg), and David (Grisman), and Winnie. Is Peter here? (asking for Peter Rowan). Where's Richard (Greene)?" And as if on cue, Richard Greene, with his fiddle case, steps through the door. Richard had been playing with the group "Sea Train," and his hair had gotten considerably longer since Monroe last saw him. Monroe looked at him, and said, "Come on up Richard and play a tune." Richard began to beg off. "What's the matter," says Bill. "Hair getting so long that you can't hear any more?" Richard took out the fiddle and stepped up. "Play Orange Blossom Special," said Bill, and kicked it off at a rapid pace. Boy that was good music!
They were certainly very special times. I feel lucky to have been there.