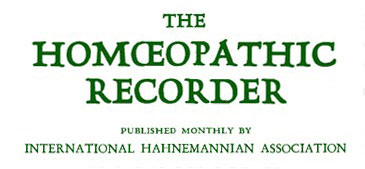 The Homeopathic Recorder was first published by Boericke and Tafel in 1886. It was an expanded version of The Bulletin, the house organ of the company. E. P. Anshutz, Stuart Close, and Rudolph Rabe all served as editors.
In January, 1928, after a run of 38 years, the publication was taken over by the International Hahnemannian Association. The magazine contined in print until July 1959 when the IHA disbanded. The magazine was subsumed within the pages of the Journal of the American Institute of Homeopathy for about a year, and then ceased being a separate part of the JAIH.
Over the 73 years of continual publication, it maintained a high standard of content with articles and cases being presented by the best of the homeopaths in the world. It is a major source of articles for reprinting in various modern journals. The original journals are rare and command high prices when found for sale.
Articles from The Homoeopathic Recorder
© Julian Winston, 2002