The adjustable single pull crank.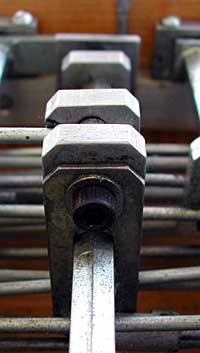 For a single pull, a special single bell-crank is utilized, which has a moveable attaching point to allow varying leverages.
The changer allows any number of pedals to take any string up to a note and down to a note. To have a double raise, i.e., to have the 4th E go up to F and to an F#, a different rod is needed (see section diagram).
The rod used for a double raise/lower has a hook and an extension. The extension is threaded. The rod is hooked to the "middle note" (i.e., the 4th string E to F raise), and is placed through the center row of holes in the end plate. A hex socket cap screw (the same as the others in the changer) is drilled and tapped, and screwed onto the rod extension. This is used to tune the middle note.
Of course, this now takes up the middle hole for that string. If you now want a second lower on the same string or a third raise on it, there are ways of working it out by using another hole as the stop, but this happens so rarely, that the modification was custom done at assembly by Joe Kline.
When "rodding it up" the full pulls go on first, and the 1/2 pulls go second. There is a need for having a pretty good idea of what positions are pulling which strings to allow for the proper bends in the rods to be made for those pulls that happen above the cross-rod and then must go under the remaining rods.
The machined end. The "comb" on the top is holding the keyless tuner.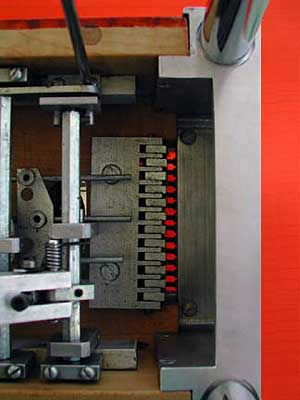 Since all the tuning and stopping is done at the end plate, there is no need for tight tolerances in the rest of the pulling chain. The cross-rods are fairly loose in the pillow blocks, and the pedals need no stops, although stops were available if the bottom felt too "spongy." The actual rotating shaft at the end of the crossrod is 1/8" diameter-- which really cuts down friction within the pulling train.
The "end casting" is machined from a solid aluminum billet. The cabinet is held to the end by two screws front and back on the inside of the apron. The string tuning unit is screwed through the top, while the rest of the "peg head" unit is screwed to the end plate directly.