Ted Lundy
Ted Lundy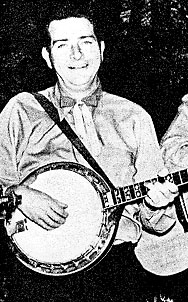 I am ever greatful that I had a chance to tell Ted Lundy how much his playing meant to me.
He was originally from the Galax, VA area, and played with a number of bands from there. His playing was as solid as any Scruggs style player I'd heard. He was good, and carried himself with the self-assurance of one who knows.
At the Watermelon Park Banjo Contest in, I think, 1966, Ted was up at the mike. He played "Train 45" in the open D tuning. He did it twice through at a rather slow speed. I was waiting for him to speed it up. He never did. Played it twice more. And won the contest.
It made me reconsider the whole idea of "fancy" and "speed" in relation to the banjo. "Why did he win? Was there something I was missing here?" Of course there was. He was perfect. Every note in its place. No need for flash. It was the beginning of a real turning point in my playing.
Many years later I was playing steel with a country band in southern New Jersey. The bar was about half full and the customers were all dancing to the band. During the second intermission, I was approached by a man. "I think I recognize you. Didn't you used to play banjo?" It was Ted Lundy. We sat and talked for a while, and I got to tell him how much his playing changed my musical outlook.
I never saw him again. I was told, years later, that he went through a bout of depression and jumped off a bridge.
He was a great banjo player who had a profound influence on my playing.