Me and the pedal steel
In the fall of 1969 I moved to Philadelphia, PA to assume a teaching position in the Industrial Design Department at the University of the Arts (then, the Philadelphia College of Art). I knew a number of folks in the Philly music scene from my bluegrass days.
1959 at summer camp. Me with my cheap Regal; Joshua Rifkin playing fiddle.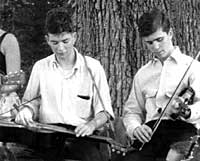 The Dobro brand lap steel on which I started.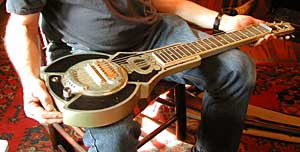 I had been in town for about a half year when I got a call from an old friend. Bob Roberts, inviting me to join a band. During the first rehearsal I noticed he had an old solid aluminum lap steel (with the "Dobro" name on it) and an amp. Thinking that as I used to fool around with Dobro in my bluegrass days, and as a number of the songs the band was doing were slower than I'd usually play on banjo, I asked him if I could give it a go.
I tuned it to an open G (as is the dobro/banjo) and started playing it. In about three weeks I came up to the level of competence of the rest of the band. I also realized the problems inherent in playing with a bar where all the notes played must be in a straight line. Three note chords were out of the question.
The banjo often had extra pegs that were first used by Earl Scruggs ("Scruggs Pegs").These used a cam principle to lower the G tuning to a D tuning by lowering the G to an F# and the B to an A. Could this idea be adapted to the lap steel? I DID have a full machine shop at my school.
So I began to plan. I got as far as making some drawings of a lap steel in which two cams, mounted behind the nut, would raise the B to a C and the D to an E, allowing the playing of a C chord in the open position. The cams would be activated by cables that connected to two pedals.
I was about ready to build this thing, when I showed the idea to an old banjo-player friend of mine, Steve Tannenbaum. "Jeez!" he said, "You're talking about a pedal steel! Why don't you come up and see mine some time?"
As a died-in-the-wool bluegrasser, I had avoided all contact with electric instruments. I certainly did not like the sound of the pedal steel. It was "whiny" and exemplified all that I didn't like about country music. But out of curiosity I went to Steve's house.
Steve had a single neck rack-and-barrel Sho-Bud with six pedals and no knee levers. He set it up and let me fool with it. Then he played me some Ernest Tubb records with Buddy Charleton on steel. "Yeah," said I. "But that's lead guitar and not pedal steel." "Oh, but it IS!" replied Steve.
And that opened my mind by a crack.
Shortly thereafter, I found that my old banjo playing friend Bill Keith had bought a pedal steel guitar. I had a chance to sit with it a bit but it was a total mystery to me. And the strings were too close together!
My next push was in March of 1971 when I was in Boston visiting some music friends, Rick and Lorraine Lee. They were singing some nice songs together, and I found out that some of their repertoire were songs by Dolly Parton or Charlie Pride. I mentioned that I was looking into a pedal steel, and Rick said, "Listen to this!" He put on Charley Pride's "Live at Panther Hall" with Lloyd Green on steel. It was an amazing sound. It was all I needed to push me over the edge.
In April I visited my brothers in Vermont and spent two days with a ZB pedal steel that belonged to Marshall Freedland, an old friend I knew there. I figured I could make some sense of it. Sure.
Then Steve bought me the "Sho-Bud Instruction Record"-- a bunch of intros and turn-arounds played and explained ("put the bar on the third fret, pick the 5th string and mash the A pedal") by Neil Flanz. Hard to follow along without an instrument!
1972 Philadelphia Folk Festival.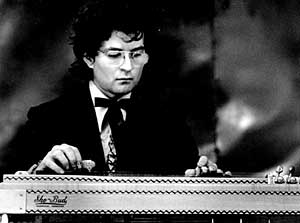 In early May 1971 I drove to New York City and bought a pedal steel at Manny's Music. It was a Sho-Bud model 6139-- a rack-and barrel-single neck with 3 pedals and one knee lever. I knew that I was going to need more knee levers, so I ordered the parts from Sho-Bud.
About 40 miles from my house, in West Grove, PA, was Sunset Park-- one of the oldest country music parks still extant. I used to drive down from NYC to see the bluegrass shows. Now I was going out to see the country shows.
The first professional steel player I met was Dale Wagner. He was playing with Jim and Jessie. I had a talk with him and he told me I certainly was going to need more knee levers than the one which was on the instrument.
Two weeks later I got to see Jimmie Crawford who was playing with Kitty Wells. A week after that I saw Terry Bethel with Mel Tillis. And two weeks after that was my awakening. I saw John Hughey with Conway Twitty. I was blown away by his playing. I asked him after the show what his knee levers did, and he was kind enough to chart it out for me.
I wish I remember what I did, but I came home, and switched some rods around on my steel. And I felt that at THAT point I began to really play.
I got a call from Bill Keith. "Hear you got a crazy machine," he said. I took a weekend and went to see him in Woodstock, NY. By that time he had bought a single-12 from Sho-Bud. It was an older "fingertip" model , and although it sounded great, it was no end of problems. The vertical knee was so stiff that you lifted the whole steel off the ground before it began to activate. The other knees were little better. But with all its problems, I started to think about the possibilities of an extended E9th tuning as a single-12. Bill went back to his Emmons D-10 shortly thereafter.
I had been playing for about two months when Rosalie Sorrels showed up in Philadelphia. Rosalie is a grand songwriter and folksinger who knows more songs than anyone. She heard that there was "a pedal steel in town" and asked to be introduced. She invited me to play at her gig the next night.
What a trip! Rosalie used a lot of passing chords, and many relative minors. What a struggle figuring out where she was! And when she said, "Take it," it was like diving into a molasses swamp.
But when she came back to Philly to play the Folk Festival two months later, I could figure it out a bit more. I continued to play with Rosalie at those times she came to the east coast until I moved to New Zealand. She always served as a good measure of how much I had learned since the last time I saw her. She always kept me on my toes. We once did a show at the Folklore Center in NYC where she announced, "I'm going to do a bunch of songs tonight that Winnie's never heard." Lots of fun "reading" her left hand and anticipating chord changes.
The Steel
It took a few months of playing before I decided I wanted to build my own steel even though Tom Bradshaw, who was writing a "steel" column in Guitar Player magazine, advised against doing so. I had met George Sell on one of my trips to Sunset Park. George lived nearby and had built some steel guitars for a number of the local players. I visited him and he was willing to guide me in my quest. He provided me with the changer unit for the guitar, and I took it from there.
George's steels at the time did not have a full end-plate; he used four separate angle corners to hold the legs. I had already decided that I wanted to build a single-12. I wanted a full end-plate. I made a mahogany pattern which I took to a local casting facility. I then did the final machining of the parts at the shop I had at school.
The first try at the body was a failure. It didn't glue up well, and when I tried fixing it, it got worse. I really screwed it up. I cut my losses and started again.
The mother of pearl inlay into the tiger maple front apron. The entire apron is bound in ivoroid and a thin line of abalone.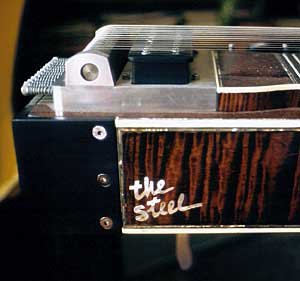 When I went to see George about obtaining the bell cranks, he begged off. Maybe he simply saw that I was a fairly competent machinist. "My wife wants me to fix some of the siding, so I'm pretty busy. You just need to make a bunch of these," he said, handing me a bell crank. So I did.
I was assisted in much of the process by Jim Rickard, an old friend who was the head of research and development at Ovation Guitars. The end castings were finished with the same black epoxy finish as the bowls of the Ovation guitars, and the body was sprayed with the finish they used on the necks. Jim also helped me with the pickup (a dual coil humbucker), and the internal electronics, which had more settings than I even figured out.
The ebony fretboard with ivoroid "frets" and mother of pearl and abalone position markers. The pattern was certainly influenced by many old banjos I had seen, but the pattern was of my own design.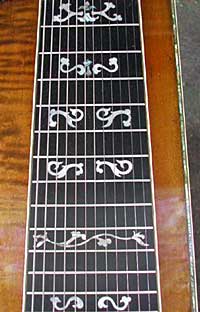 The neck had an ebony fingerboard inlaid with mother-of-pearl and abalone. I called it "the steel"-- simply because that's how I always referred to it. "Gotta go home and work on the steel," I'd say. I wrote the words "the steel" about 50 times on a large piece of paper and picked the one which looked the best. I traced it, cut it from mother-of-pearl and inlaid it into the front apron of the guitar.
The final finish was upon the advice of Jim Rickard. After preparing the maple body to a 600 grit sandpaper, I gave it a good soak in bright yellow food coloring. This yellow was absorbed deep into the grain. After it dried for a few days, I applied a darker brownish-red stain on top. This did not go into the wood as deeply as the yellow and resulted in an incredible depth of finish.
The original cast pedal. Too short, wrong angle, bad surface.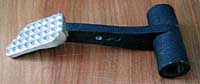 Once I got it assembled, I called George for advice about rodding it up. He was not very helpful. "It depends on the feel you want," he said. "Sometimes I put the rod in hole one, sometimes in hole two." Hell! I could do that! So I rodded it up. It played like a truck. I called George. George said, "What did you lubricate it with?" Lube? Oh. With a little oil, it played much better. But it was still not great.
Within a few months, I made new pedals for it to give me a better mechanical advantage. The old pedals were terrible-- not long enough to gain enough mechanical advantage in the linkage. They had been the first part I made. I guess I started with the first word: "pedal."
One innovation I had was a pick and bar holder I made from brass containers that were made for movie camera lenses. I had them black-chrome plated to match the legs of the guitar, and sank them into holes in the guitar's back edge. The bar holder had a spring under the bar so when the cover was removed, the bar popped up.
Wish I had better shots of it all. Didn't even know I had these few of the first incarnation. The Steel in the case. The two batteries at the peghead end were for the electronic equalizer (designed by Jim Rickard) that was built in. Enlarge...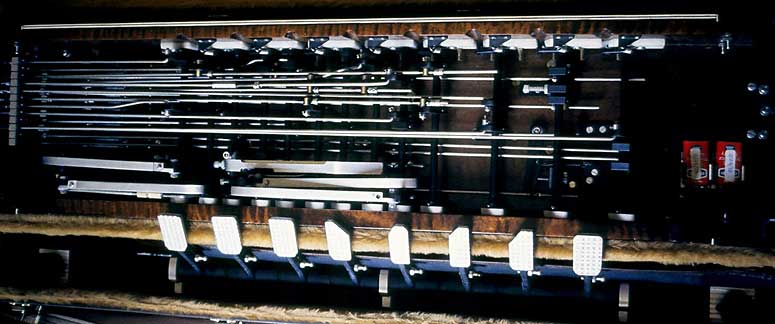 One innovation I had was a pick and bar holder I made from brass containers that were made for movie camera lenses. I had them black-chrome plated to match the legs of the guitar, and sank them into holes in the guitar's back edge. The bar holder had a spring under the bar so when the cover was removed, the bar popped up.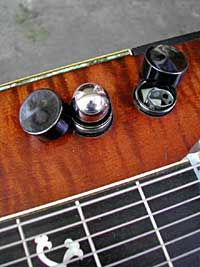 It sure was a looker -- all bound like a Martin D-45 in ivoroid and abalone. The little inlay in the middle of the pedal board was made by Doug Unger, a great pearl master in Ohio who found me the fiddleback maple I used for the body.
When Buddy Charleton first saw The Steel he said, "Now that's the first one I've seen that don't look like a kitchen table." You bet!
It is this steel that is seen on the cover of the Oak book "Pedal Steel Guitar."
Shortly after completing The Steel, I was asked to join "Doc Holiday and the Holiday Ramblers" a popular "bar band" in the south New Jersey area.
Doc Holiday and the Holiday Ramblers. From left, Don Colenero (the drummer, holding my banjo), me, William "Doc" Holliday (holding a borrowed 000-45 Martin), George Hubschmidt, Don Lacey.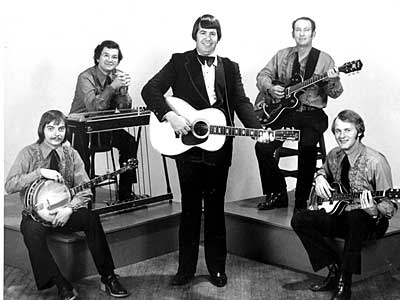 I played with them every weekend for almost four years. There is nothing like five 40 minute sets a night to hone your playing skills! Along the way I learned all about second-hand smoke, and saw some amazing interpersonal-relations on the dance floor as I watched from behind the safety of my steel.
-> Me and the Pedal Steel (part 2)
The abalone inlay cut by Doug Unger, set into the fiddleback maple he found.
The Steel in its first incarnation.